Finding new questions
Chloe leaves restaurant work, Anna thinks about the ethics of alcohol and they both drink rum.

Hello, welcome to the second September issue of Sourced's paid-newsletter. If you're a free subscriber, we snuck this issue into your inbox too. Our paid newsletter is meant to bring you along with us as we build and create Sourced. We want you to be able to see the tangential musings that influence what we ultimately publish on the website. 
This week Chloe will be discussing her decision to leave restaurant work and the effects of the pandemic on the future of restaurants. Anna was gifted a bottle of rum from Equiano and has a few cocktail recipes and thoughts on what ethical alcohol production (and branding) looks like. 
---
Career [flip] Flop
Chloe-Rose Crabtree
The last time I left restaurants for good I moved to France. I was very certain I wouldn't be going back to standing for 12 hours a day, lifting 50lb bags of dried goods, or expertly launching heavy bags of food waste into bins taller than my 5'0" frame.
Restaurant work is extremely physically demanding. The strain is repetitive, the hours are long, and the pay off is minimal – 'its for the love of the craft!'. When I first left this work at 26 I was experiencing chronic back pain and an antisocial sleep schedule. I traded the 4am alarms for grad school and then an office job but after two years I found myself creeping back towards my clogs and knife kit. My return reminded me how much I love working in kitchens and also how unsustainable it has always been. And now I am leaving restaurants again. 
The four months I've been back from furlough have been the hardest and most confusing time I've experienced in my decade in kitchens. Restaurant staff and consumers are both trying to navigate what restaurants are supposed to look like in a global pandemic, each with varying levels of success.
Now, hospitality staff have become de facto health officials. While we pull triple-doubles with masks on we still have to remind guests to wear theirs or occasionally offer a gentle but firm reprimand: 'If you don't mind, could you please not stand in that 1-metre space that has been purposely put between our counter seats to protect your fellow guests, I'd really appreciate it.' Response to these gentle nudges towards maintaining health and safety standards is met with a mixture of eager compliance and affected discontent.
My experience of hospitality and the coronavirus is very much only in relation to the UK for a couple of reasons: it is where I live and it is all I have the bandwidth for. Other people I know working in restaurants right now feel similarly exhausted. The new 10pm curfew in place in the UK is one of many curve balls thrown at the country's food industry and I know I am not alone in being overwhelmed. 
The privilege to walk away is afforded to me because I have a supportive spouse with earning potential, a graduate degree to fall back on, and a network I can draw on to find freelance work. This is not industry standard. While I can make the decision to walk away, there are people within this industry that are seeing their career plans dissipate or have had valuable hours cut because of decreased trade. 
This is not an industry of transient workers, it is an industry that over 3 million people (in the UK) rely on to make a living. In the places with the best employment practices there are opportunities to grow expertise, build a network and develop a career. The stagnation this industry will face will see huge losses in industry talent and innovation. 
As consumers it is crucial that we understand and expect our restaurants to change. Hospitality professionals are literally in the business of making their clients as comfortable as possible. The people who continue to work in our restaurants are working twice as hard to make things seem as normal as possible.
This dynamic can make us forget that when we step into a restaurant we decide to make our personal comfort someone else's concern. This is a topic I wrote about for Resy and discussed with food-writer Alicia Kennedy as the UK began to ease lockdown restrictions and open restaurants again. With Sourced, Anna and I have been grappling with how we can have these academic-led conversations around the food industry without being out of touch with where the industry is at. 
What I keep coming back to is that we need to be pushing these academic-led conversations about how the food and drinks industry uses branding and marketing to perpetuate unhealthy power dynamics that existed well before the WHO announced a global pandemic. We are at a point where restaurants are forced to reimagine their business practices, so why shouldn't the consumer reconsider their relationship to the restaurants they rely on? 
What Chloe ate/drank this week:
Last time I wrote out my list of weird kitchen scrounges my mom sent me a text telling me to eat better. Unfortunately I am still on the scrounge diet but I did go to the newly rebranded Sonora Taquería at Netil Market last weekend. Formerly Los Pollos Feliz, Sonora Taqueria is one of many restaurants that has shifted to selling deli items to make up for lost trade and I am so happy to make their paper-thin Sonoran flour tortillas a new household staple. They are only 2 stalls away from their original stand and offer fresh tortillas de harina, tacos, quesadillas and some truly excellent jamaica. 
---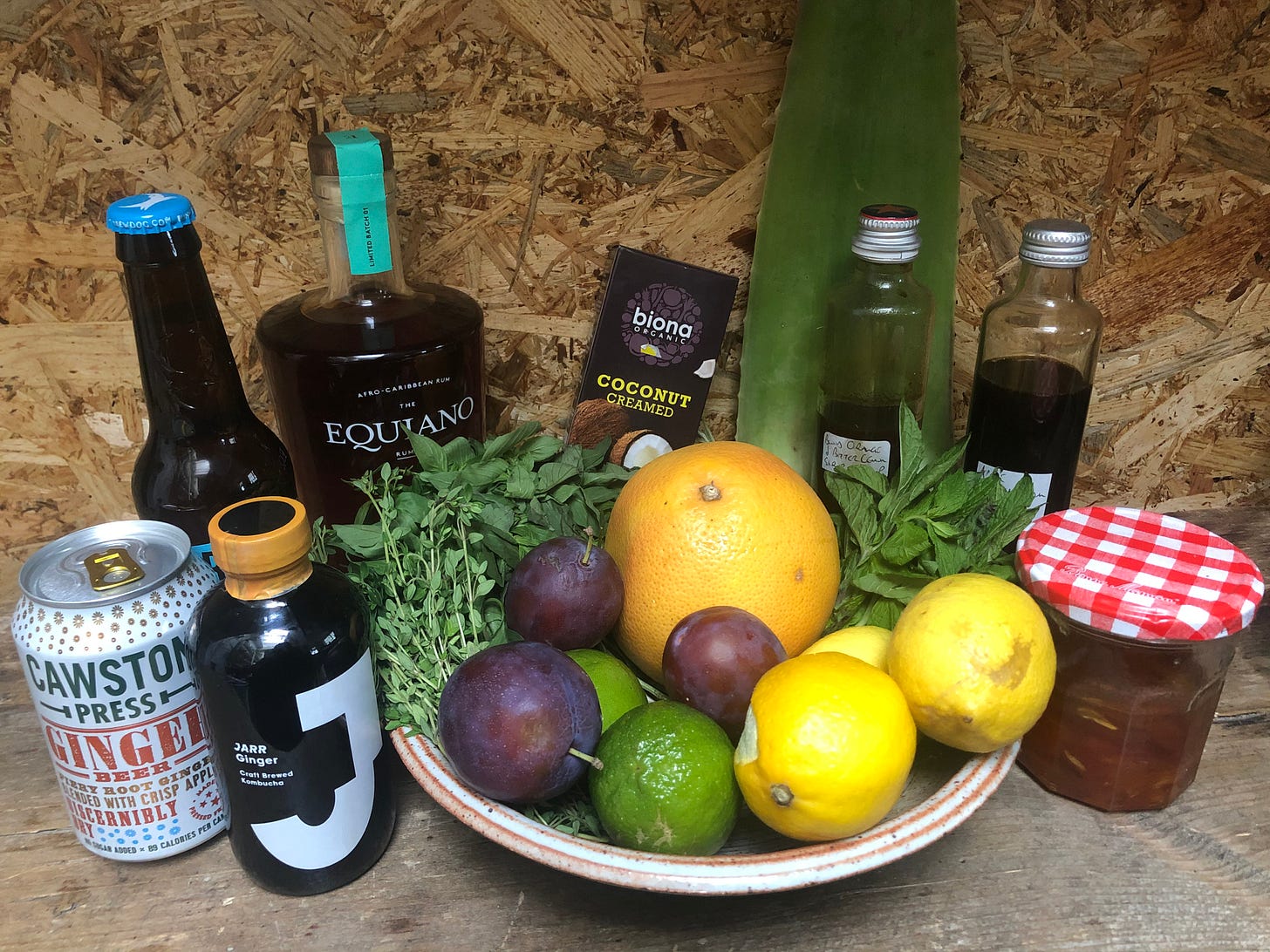 To imbibe
Anna Sulan Masing
Researching is often sifting through information trying to find the holes; that isn't a negative, it is just looking for the next rabbit hole to fall down, the next road to take. Research is all about finding a new question. 
Reading Imbibe by David Wondrich brought up a couple of questions for me. It is a good book, with a lot of research and it gives a clear context – "from absinth cocktail to whiskey smash, a salute in stories and drinks to "Professor" Jerry Thomas, Pioneer of the American Bar". Straight away you understand that it is from the perspective of one guy, a white guy in America, someone of a bar world. The questions came up in the preface to the revised edition (which I have) where Wondrich explained that he spotted his book often on bar shelves and reading it was "a precondition for employment" in some bars. Therefore, a slew of bartenders were learning about their industry through the specific lens of Jerry Thomas. So one question was – just how far has this reach gone, how much of the industry is built through the eyes of Mr Thomas, and what learning has been missing?
Wondrich understands this responsibility and has gone through corrected a few things and made adjustments – he says. And this is where the second question comes in. I had been given a new bottle of rum so I was keen to explore the book's recipes and takes on rum to replicate in this newsletter, but there is really so little about rum in the book. The section (a page and a half) specifically on rum talks of sugar cane but not of slavery… When you write something you cannot predict how it is received, but when you find out that it is seminal surely additions should include a clear context of what gaze you are writing from and therefore pinpointing swaths of information you can't cover, and surely (!) a line about the salvery and colonialism isn't going to take away from the fact this book is based on 'what would Jerry Thomas do?'
This does not make the book irrelevant, it is good, but I am very aware of what is missing and how damaging that narrative can be if not counteracted by a space for telling the stories that are missing - where is that space?
Now to the rum! I had heard about this rum, Equiano, earlier in the year after listening to Ian Burrell, gold ambassador for the category of rum, speak about it – well, about rum in general and the violent history and problematic contemporary narratives. The great thing about being a journalist is sometimes the research lands in your lap… as I was drawing up a list of drinks brands I wanted to look into the press release landed in my inbox about Equiano's launch. After discussion with the PR about it, she sent me a bottle. (NB: we're going to talking about PRs, gifting and food media in our next newsletter)
So what I learnt about this rum was that it is Black made – by Ian Burrell – it is PoC owned and that the brand is keen to address diversity in the drinks world. But when reading Imbibe, and cocktail making with Chloe we began to think what does due diligence of a brand actually mean? What do we really want to know and what questions should we be asking? Is addressing diversity enough? How do we question their treatment of workers? What is their sustainability policy? And, what actually does an ethical [booze] brand look like?
We don't have the answers, yet. We are keen to find out what the answers are; in the meantime, we gathered a bunch of ingredients and this is our rum cocktail recipe:
A cardamom and apple shrub – treat it like a generous pour of bitters – poured over ice and fresh mint, muddle/shake/roughly stir. Pour a shot of Equiano rum, stir. Top with ginger kombucha! We used both Jarr's ginger and raspberry, both versions were great.
In November we will be publishing a piece on rum history, myths, marketing and colonialism by Israel Ayala, Puerto Rican bartender, historian & anthropologist. Israel says of rum cocktails "I like a Rum Old Fashioned and a small twist of the Daiquiri with Aged Rum, Sherry, Lime and Angostura bitters."
Reading Recs
I Hate Dishoom - this is more a look at systems and aesthetics, less a personal attack
A Dish the Reflects Our Nation: okra soup - an interview / recipe by Samin Nosrat of chef  Amethyst Ganaway and her okra soup
Imbibe by David Wondrich - yes Anna critiqued it, but it is good. 
Interview with Ryan Chetiyawardana - listen to how and why the bar world is moving beyond the Jerry Thomas style cocktail making 
Taco Chronicles - on Netflix, two seasons so far. A deep dive into the beloved hand-held street food.  
More than two voices
Paid subscriptions help us fund commissioned work for Sourced. While we have a lot of thoughts, in order to represent a global community Sourced needs to have more than two voices. In our first 2 months we have received enough paid-subscribers to start commissioning and we are really proud to share an article from Elizabeth Dean on colonialism and salmon consumption in the US Pacific Northwest and announce that we are open for pitches!
Help us keep this going by upgrading your subscription here and if you're still not sure, you can see another example of our paid newsletter here. In any case, we'll see your inbox next week with our free October newsletter.
Aftermath of cocktail experimenting, tasting and trying and note making…